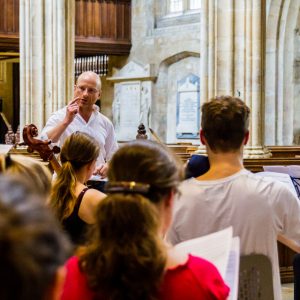 Jonathan Williams enjoys working as a conductor, composer and musicologist. Equally at home performing live or in the studio, he has conducted such groups as the Orchestra of the Age of Enlightenment, English Chamber Orchestra, London Mozart Players, Royal Philharmonic Concert Orchestra and BBC Concert Orchestra. His work at Abbey Road studios can be heard on NOVELLO and BAFTA award-winning soundtracks with sales of over 70 million copies, including his award-winning choral music for Sony's blockbuster video game, Horizon Zero Dawn. A professor at GSMD from 1994 to 2004, Jonathan is now Tutor and Examiner of Orchestration at Oxford University, and the Director of College Music at St Hilda's College, Oxford.
Jonathan's love of the operas of Jean-Philippe Rameau led him to undertake doctoral work at Oxford; his edition of Rameau's Anacréon (1754) was subsequently published by Bärenreiter and performed and recorded by Jonathan and the OAE. He subsequently founded the Rameau Project and was at the forefront of the UK celebrations during Rameau's anniversary year in 2014, performing three Rameau operas at the Queen Elizabeth Hall, again with the OAE.
Most recently, he conducted the Missa Solemnis and St John Passion at the Cadogan Hall in London, a concert of Elgar, Fauré and Finzi with the English Chamber Orchestra, Rameau's Les fêtes d'Hébé in Paris and London, and Dardanus with English Touring Opera.
Future projects include co-editing a volume on Rameau's life and work, taking workshops at the Royal Academy of Music, and performances of the St Nicolas, C Minor Mass and Shostakovich's Symphony no 5.