Publications
~ 'Music, dance and narrative in Rameau's Zaïs: bringing the immortal back to life' in Journal of Dance Research (Vol. 33 no. 2, November 2015)
~ A special Rameau anniversary edition of Early Music (November 2016)
~ An edition of Rameau's Anacréon (1754), series IV volume 25 of Opera omnia Rameau, published by Bärenreiter (2004)
Recordings
A CD of Anacréon for Signum Classics, the first studio recording of a Rameau opera in the UK for 30 years.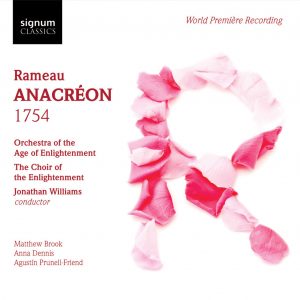 An important landmark – 4 stars
'Debussy conducted a version of Rameau's one-act Anacréon back in 1909, but it has taken the scholarly ingenuity of Jonathan Williams and a major collaboration to revive it in our time. This Rameau project, involving Oxford University and the Orchestra of the Age of Enlightenment, shows how integrated research and performance have now become. The music here is well worth restoring: the instrumental dances full of burbling flutes, whooping horns and beating drums show Rameau as thoroughly contemporary in his vivid imagination… an important landmark.'
Nick Kenyon in the Observer (October 4, 2015)
'In this first recording the opera makes a delightful discovery, telling its gentle tale of a love triangle in the ancient poet's garden with typical Enlightenment grace. Anna Dennis, Agustin Prunell-Friend and Matthew Brook are the genial singers. Williams conducts the OAE and its choir with bright-eyed energy and finesse.'
Richard Fairman, Financial Times (September 18, 2015)
Thank you Simon Heighes for picking Anacréon as one of your top recordings of 2015 – the OAE and I are delighted! Listen to Simon in conversation with Radio 3's Andrew MacGregor here.