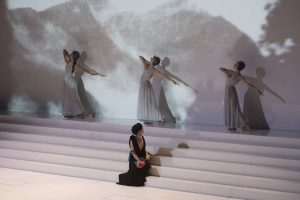 Thank you Richard Morrison for your wonderful 5 star review in The Times (7 April). Your kind words are much appreciated…!
"This charming production – wittily staged, vividly designed and meticulously choreographed by Thomas Lebrun – perfectly captured the inconsequential élan of the original….The voices were young, but stylishly deployed, and in the pit Jonathan Williams encouraged spirited playing from the RCM Baroque Orchestra. Hébé must have been richly entertained, and so was I."
Read the complete review here (behind The Times' pay-wall).